About Logitech X100 Wireless Speaker
Logitech X100 is an entry level multi purpose portable speaker which ranges under 2000 INR in India. Similar to other wireless speakers in this price segment. This Logitech bluetooth speaker provides quality music, average bass beats and mic support. In my logitech x100 review. I will discuss all its features, pro and cons and clear it whether you should buy it or not. So let's start reading.
Logitech X100 Bluetooth Speaker Review
Technical Specifications
| Features | Values |
| --- | --- |
| Conncection | Wireless via Bluetooth, Wired via AUX |
| Wireless Range | 30 ft |
| Speaker Type | 1.0 |
| RMS | 3 Watt |
| Bass Rediator | Integrated |
| Mic | Yes |
| Battery | 750 mAh, 5 hour backup |
| Charging | USB charging |
| Dimensions | 17.7 x 12.9 x 7.1 cm |
| Purpose | Music, Movies, Calling |
Overall Build Design & Quality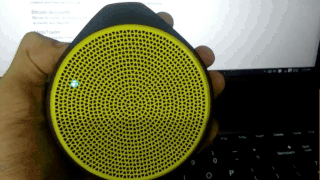 Talking about the design of logitech bluetooth speaker. X100 adapts the similar build style as logitech x50. But, the upper mesh and layout still differs.
One good thing about this portable speaker is its size. X100 is of average human palm size. Don't underestimate its loudness though. Its side is covered with rubber material which gives strong grip on holding it. The rubber makes it too ergonomic and comfortable to hold. I wonder how it feels without it? Also, the rubber help it to tolerate bumps and drops.
The negative here is its button are hard to see in dim light. And hard to push. The only indication is the emboss of outline.
On the top it has mesh design from within the sound comes from. I didn't screw it open. But can presume that within the mesh you will find bass radiator. And within it you will find the tweeter (speaker).
The bottom (rear) has rubber coating on it too.
Control Buttons & Ports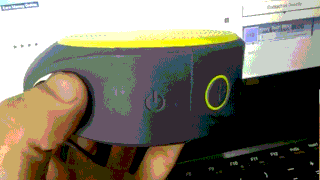 It only support volume control. So all you find are two buttons for volume up and down. To power up we have power button on the very side. You need to memorize its placement because it doesn't has any outline for it. In order to connect a x100 with Bluetooth or cable. We have Bluetooth pairing button and AUX 3.5 mm Jack port. This wireless portable speaker support charging via USB port.
Sound Quality : Audio, Vocal & Bass
If we compare this one with logitech x50. The only drawback we face with the successor version is its loudness. This Logitech speaker is not as loud but deliver clear music quality. X100 is good for watching movies due to clear vocal delivery. For music listening it is pretty average.
Bass are fine for such big – brand entry level bluetooth speaker. It suppress mid beats a bit but for heavy beats it perform very well.
Due to its flat design it gives you an opportunity to hang it on the wall. Make sure it would be higher enough from your average reach. Say 30-40 meter above your siting position. In this way it dynamically generate loudness and bass will be clear too.
You can hear an audio sample from below youtube link.
Mic & Calling Feature
This Logitech speaker allow you to use hands free calling in just one click of button. Audio clearity while calling is uber. When you receive a call from someone its indicator light blinks and sounds a midi tone (not your ringtone). To receive call you need to use your phone.
Logitech X100: Why it worth buying?
If you're looking for a portable speaker in very low price range but with brand name. This is what you will find on amazon reliable.
Spicy colors.!
Its design is one such perk. X100 is covered with rubber coating like most of the speakers does. It looks good and is a size of palm. So, portability is one such comfort with it.
Its flat like earth. You can dock it on a wall with a groove.
Audio quality is crystal clear.
If I compare this with Sony SRS-X11. I found both has similar battery life. It is really dependable for tours.
Is it sucks?
Their are few such reason I recommend Sony or JBL Go over it. First, its loudness is quite low.
Bass is just fine. I am not saying it does not have quality. But, impact is quite low.
Does not support playback via USB.
Frequently Asked Question
What are its charging time & battery backup?
I have not used it daily or at regular basis. So, for me, charging it about 2 hours with 2A charger works well. For that amount of charging I can go around 10-12 hours. Or 7-8 hours for straight listening if I make calculations. In wireless speakers, power consumption is low while not playing music.
How to make logitech x100 connect to laptop or smartphone?
Its easy. Switch ON your Bluetooth from your
phone
or laptop. Hold the Bluetooth button in speaker. Once your phone detect it click on its name. This will take around 30 second for creating connection.
If you are facing trouble connecting logitech bluetooth speaker with laptop follow
this guide
.
Is logitech x100 waterproof?
No but can handle splash because it has rubber over it.
Is daisy chain is possible with Logitech x100?
No, for daisy chain either best buy
Sony wireless speakers
. Sony wireless speaker support daisy chain of upto 2 (L & R).
Is it compatible with iPhone 4,5,6,7?
Yes & tested with iPhone 5S.
Should I buy Logitech X100 or go with JBL GO?
[wp_ad_camp_1]
JBL Go deliver far more better sound quality than this. Its better to go with JBL GO if you are okay with its price budget. If you have bigger budget, you can check out the list of
best wireless speakers under 3000
from
Au5.
Logitech X100 Vs X50 whats the difference?
X50 is made purely for music. X100 is for both music and calling. X50 is much louder but than X100. X50 has three physical buttons while X100 has separate button for pairing.
What's inside the package?
A unit of bluetooth speaker, a USB cable, logitech x100 manual, and a groove to hang it.
Conclusion
I hope that's enough for you to decide whether to buy this Logitech bluetooth speaker or not. X100 is more than just leisure box for a casual music listener. Not made for parties. The lower loudness is a con but the audio clarity is too good to forget we have any con here. I use it for watching movies mostly. And for listening music I prefer my Sony MDREX250 AP.
So, whether you going to buy it or not. Let me know the feedback of this logitech x100 review.