All above from all iPhone X hype lies our hope for Samsung Note 8. Why? Becuase I am not a fanboy. I would say iPhone 5S and iPhone 7 (and variant) are omnipotent of their time. But, this? I would call it just X-perimental.
[wp_ad_camp_1]
If you'd over with things you can buy instead of iPhone X facebook post. I would also let you know why you should buy none of them. You we're expecting a little sympathy from me too?
iPhone X the new venture of Apple in removing popular things from their phone. Has reached a peak of trend with its price. The Apple company this time removed the most popular touch ID and replaced with Face ID. A new thing on the market? Keep on reading.
Apple iPhone X launched in India with hefty price of 1.02 lakh. The iPhone 8 is said to be cost you 64K INR. At the same price, Galaxy Note 8 launched in market too. Remember we mentioned Galaxy Note 8 extend its release date to compete with iPhone 8. Well, the hateful 8 is going here. Both devices offering something new to their respective consumers and both are the 8 in the series. But, this post is not about them.
iPhone X Features
Now, lets point out the cool features of iPhone X. The X in the series re-inovated some old features of 2013 and 2015 for their brand new devices. Let's look at them and refresh our memories with their original counterparts.
iPhone X Display Review – its all screen
Talking about its first impression. We got nothing on the front panel rather than screen. The same design we were expecting in Note 8. Even more horrible with overall width of display (not the thickness).
The thing which impress me with its "its all screen" is the usage of colors. We can see multiple color gradients in a small portion of phone. I am talking about bezel to be on the point. We see grey, shining black, and grey. The usage of gradient looks to visually appealing. But, the placement of button disturb the complete alignment of color. Also, putting "its all screen" looks very … odd. This is not we used to be. Good to see iPhone is not following Android's edge to edge status quo. Successfully adopted by Sony, Samsung and Lenovo.
Talking about its dazzling specifications. We have 5.8 inch Super retina OLED display which is numerically expressed as 2436×1125. Which is nothing new but, hey its new in Apple ayy. OLED is a great new implementation in Android Phone. Which introduced by Samsung in first place. Also the 2K resolution in Galaxy S6 (back in 2014).
iPhone X is waterproof?
Hurray to the fanboy's and fangirl's. Now they can capture their underwater experience. Not really. It just water resistance. Apple should emphasis it. Water resistance is something on which Sony doing their whole business. And apple leave it like that? This iphone just resist water with even lower grade IP67. Remember Sony Z5 premium has IP68 rating in 2015. Back to the future mo****f****rs.
Face ID – A revolu… holy sh*t?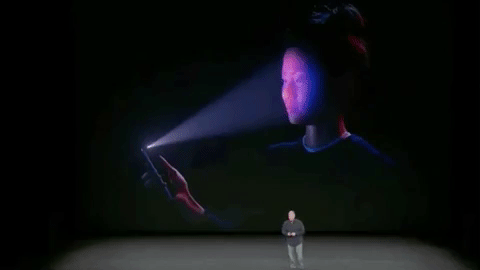 The whole new concept added to upcoming Apple iPhone is Face ID. They totally kickout the best feature ever which was Touch ID for something new. New you say? I used to unlock my Windows 8 laptop with that feature years back. Also, android already have it. Also, Also, another 2015 thing re-utilized in 2017. Back to the future already.
We're not going to judge this point so early, shall we? No. Let's compare this with Windows Hello Facial Recognition.
Windows Hello Facial Recognition vs iPhone X Face ID
Recogonization Algorithm
iPhone X face ID recognize the no. of invisible dots in your face. Let's say, it creates a layout of dots withing your face boundary and recognize them all.
It recognize the alignment of nose, ears, eyes. While in process it creates histogram representing the light and dark differences around specifics points
Understand anything? Nope? Don't worry I neither. In simple words. It works on vector.
Face Spoofing
Face ID is spoof proof. Your physical picture or LCD screen won't unlock your phone. Hello facial is spoof proof since too.
IR Sensor for dim Light Recognition
If you wonder how face id works in dim or absences of light. It has Flood illumination which transfer a beam of invisible infrared ray on your face. The floody things works on adverse weather too.
This is where iPhone X wins. Microsoft devices utilises common IR sensor. On dim display it works but in adverse environment this might not work.
Face Enrollment
It knows you more than your Mom. You with muffler, scarf, or glasses. Can unlock your device.
In MS hello facial recognition. You need to enroll with and without glasses. This is again where apple win (dows).
Soucre for Windows Hello Facial Recognition (here) Apple Face ID (here).
Camera Review ~ TrueDepth Camera
I would not complain its camera quality. But, all the advertised features are way beyond. Truedepth camera put focus on your face and blur the background. Wait a minute. Is that Samsung all the way, again? Samsung Live focus do the same right?
No.2, Portrait Lightning, it is the same you can do in Photoshop too. Bring something new.
Animoji. MSQRD ! No words needed here.
The impressive is what not described. The latest iOS will scan qr codes right from the camera app. No need to install any 3rd party app in new iOS.
Wireless Charging with AirPower Mat
Is that something new? Samsung again? What's new in wireless charging is that it charges iPhone without using cable. The device name is AirPower mat. And in no way you're getting it for free. Even on promotions like with note 5. That would cost someone salary.
Also, Gestures
Apple completely take off touch ID and pressure sensitivity now they bring gestures. It's funny that gesture is overused context in smartphone and now many few people practically use them. We should totally avoid gesture for now. Its 2013 thing used by Indian and Chinese phone vendors to advertise their products.
The X
Its not alphabetical X. Its roman no. the 10. Following the Windows nomenclature. The apple here also ignored #9 completely and escalated to the X (sigh). Why? Becuase Seven (ate) Nine, that's why.
iPhone X specifications from source.
Holla, if you got anything to add. Be sure to utilize the old school comment section. Like iPhone using the old school features. Be sure to share this post to open your friends eye.