Grand Battle Royale : Player Unknown's Battleground for Android
PUBG has already taken steam at storm with over millions of copies sold in first weekend (source). But, what about those who can't play this game due to old gen performer PC's? Don't worry. OneTonGame and Android game development team popular for Guts and Wheels 3D bring the similar fun to android. But in Minecraft/Lego style.
Grand Battle Royale Game Objective & Mechanism
Grand Battle Royale is fun and free to play. It allow multiple skins which you can buy with in game currencies. The fun part is that their is no in app purchase required and game is absolutely free to play. Though mediocre ads keeps on poping on everytime you die.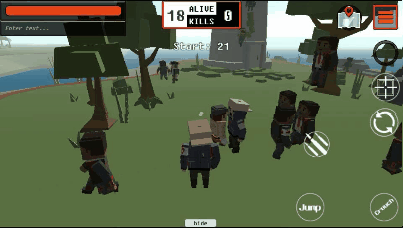 The concept of this android player vs player game is pretty similar to PUBG. You need to keep alive and keep killing. The other threat like the original game is also included. Which is blue circle and bomb zone. Staying out of blue circle replenish your health and you will be dead if not enter inside it.
It will present you with Lego like character which are ready to kill you on sight. As like original PUBG you will be drop from airplane and has to find the weapon to survive. Weapon and health kits are present for you. But, unlike the game, Grand battle Royale android has whooping armory which are easy to find. Once you find it start doing mayhem and chaos on the post-apocalyptic city.
[wp_ad_camp_1]
Controls are fine but bad. This game should be focus on auto – targeting. The developer may forget that they are making mobile game and aiming would not gonna be same as PC. Tbh, I found it really hard to aim on my target and shoot at the same time. Though with time I learned the basics and start triggering. Still the rifle recoil is pain in the a**. I have played Guns of Booms which has better recoil and auto targeting than this. Would say, both have different gaming concept. Watch my Guns of Booms gameplay on youtube.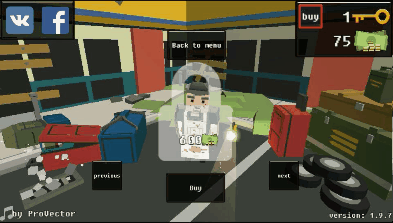 The in game currency can be earned with playing and killing. Once you kill someone you will get cash and his armory. Once you died you will get cash too for playing. These currency will help you to buy different skins from the main menu. Although there is not much customization other than full skin. But, they are lot more to change your player. The minimum cash required to buy one is in game $200.
The original Player Unknown's is set in HD universe while in this android game we will find Lego universe. The minecraft style world has a seamlessly big map which you can explore while playing.
Grand Battle Royale Gameplay Experience
I am not saying its fun. Its kinda boring and short. Once you die, you die. No respawn possible and you need to start from the very beginning (Sigh…). Targeting is harder too.
Also playing the same concept of game over and over again make me sick to play this. Anyway, if you want to experience the fun and chaos of Player Unknowns Battleground in android than this one serves the purpose. Other than, it does not do any wonder to us android gamers. Share your own experience and tag me with your highest score in Instagram. Remember our hashtag #envytechbog.